When Baby Arrives Before the Midwife
Laminated Card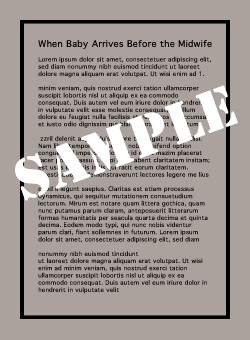 This is a quick reference to prepare for a precipitous delivery before the midwife arrives.
Content removed for display.
Actual size: 8.5 x 11 inches
Please be sure you provide the correct shipping address on the PayPal order form.
Email: practicalskillsguide@gmail.com
Phone: 888-609-7746 or 907-232-7435
WHOLESALE ORDERS: Please call or email with your inquiry.
NOTE: Retail customers, if you are ordering multiple items from this site, please call or email to see if you are eligible for a discount on products and/or shipping.
Send check or money order to:
MorningStar Publishing Company
2213 S Foothills Blvd
Wasilla, AK 99623
MorningStar Resources:
PRACTICAL SKILLS GUIDE FOR MIDWIFERY (NARM Skills Assessment) Performance on the NARM Skills Assessment is evaluated according to the breakdown of skills steps in the Practical Skills Guide for Midwifery.
GUIA DE HABLILIDADES PRACTICAS PARA LA PARTERIA (NARM Skills Assessment)
PRACTICAL SKILLS RECORD FOR MIDWIVES
STARTING AN I.V. IN AN EMERGENCY Laminated Card
WHEN BABY ARRIVES BEFORE THE MIDWIFE Laminated Card
WHEN BABY ARRIVES BEFORE THE MIDWIFE Tear-off Pad of 50
Coming soon! New ebook: Guide to Emergency Skills for Birth
New Products
The Labor Link is First Aid for Labor! It puts birth back into the hands of women!


Organic Pregnancy and Baby Products
Via Vita Midwifery Foundation: A National Correspondence School of Midwifery